About Boston University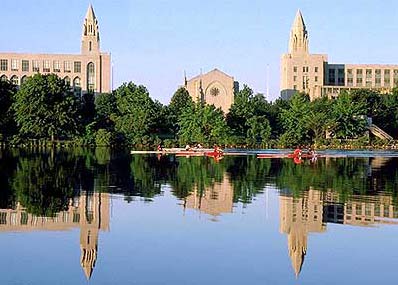 Boston University
was chartered in 1869 by Lee Claflin, Jacob Sleeper, and Isaac Rich, three successful Methodist businessmen whose abolitionist ideals led them to envision and create a university that was inclusive—that opened its doors to the world—and engaged in service to and collaboration with the city of Boston.  From the day of its opening, Boston University has admitted students of both sexes and every race and religion. It is with pride that we count Martin Luther King, Jr. among our alumni. What makes us prouder still is the fact that when he received his doctorate from the Graduate School of Arts and Sciences in 1955, Dr. King was taking his place in a long line of individuals that stretches back to the University's founding. Other notable alumni include the first woman to earn a Ph.D., the first woman admitted to the bar in Massachusetts, the first Native American to graduate with a doctorate in medicine, and the first African-American psychiatrist in the United States.
Boston University is a private urban research university, established in 1869, offering a breadth of undergraduate, graduate, and professional programs through its 17 Schools and Colleges and more than 250 fields of study. With nearly 4,000 faculty members and more than 30,000 students, Boston University is the fourth-largest private university in the country and Boston's fourth-largest employer. The University offers bachelor, masters, and doctoral degrees, and medical & dental degrees and operates two urban campuses. The main campus is situated along the Charles River in Boston's Fenway-Kenmore and Allston neighborhoods, while the Boston University Medical Campus is in Boston's South End neighborhood.
The School of Music at Boston University, founded in 1872, is the oldest degree-granting music program in the United States. The School of Theology at Boston University is the oldest Methodist theological seminary in North America, and the founding School of our University. The School of Theology has 278 students currently enrolled and 30 faculty members. The Master of Sacred Music degree is offered jointly through the School of Theology and the School of Music. It is at the forefront of professional training in sacred music. Students are prepared for leadership roles in communities of faith, and as performers, scholars, and teachers using the incomparable resources of Boston. For example, Boston University houses the editorial office of Studia Liturgica (the journal of the international and ecumenical Societas Liturgica), the AGO organ library, and one of the finest hymnological collections in North America.