SCSM Annual Meeting | 
February 8-10, 2018 |

Southeastern Baptist Theological Seminary
, Wake Forest, NC
---
---
Keynote: Steven Guthrie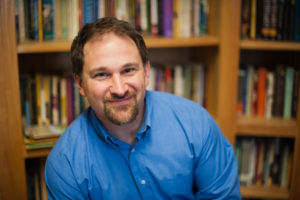 The SCSM is pleased to announce Dr. Steven Guthrie as our Keynote Speaker for our 2018 Annual Conference.

"Silence, Solitude and Song: Sounding the Dimensions of our Aural Crisis."
"Two of the most pressing issues of our current cultural moment are the loss of community and the loss of civility. A host of studies have demonstrated that Americans are increasingly isolated from one another; physically, emotionally and ideologically. Former surgeon general Vivek Murthy for instance, has spoken of a nationwide "loneliness epidemic." A widely cited survey from the Pew Research Center likewise indicates that ideological and partisan acrimony is "deeper and more extensive than at any point in recent history." Perhaps we could describe these problems as twin manifestations of a deeper "aural crisis." That is to say, we do not feel heard, nor do we hear one another.
These issues of isolation, sound, and competing voices are the subject of a fascinating trilogy of pieces by Canadian pianist Glenn Gould. Gould characterized hisSolitude Trilogy as an experiment in "contrapuntal radio" – in which music, environmental sounds and recorded interviews are drawn together and built up into an aural collage. Though these pieces are not particularly well known, the Canadian philosopher Georges Leroux has described The Solitude Trilogy as "an unequalled masterpiece" which "encompasses all of Gould's thinking as a musician and all of his art." We will add further voices to Gould's contrapuntal exploration by attending to the contemplatives, those Christian virtuosi of silence and solitude. We likewise will find that the Christian doctrine of the Holy Spirit – the Giver of both tongues and interpretations – has much to add to our consideration of sound and solitude."
---
Conference Program (draft)
View Fullscreen
---
Logistics
Local Airport:
Raleigh/Durham International Airport (RDU)
A .pdf with driving directions from RDU airport can be found here.
Hotel Accommodations:
SCSM Group Registration Fare available at:
Hampton Inn of Wake Forest <–use this link for special pricing
12318 Wake Union Church Road
Wake Forest, North Carolina, 27587
919-554-0222
---
The Southeastern Center for Faith and Culture will host the conference. Additional sponsors for the conference include Duke Divinity School's Duke Initiative in Theology and the Arts and the Virginia Tull Music and Arts Series.